When it comes to choosing a meeting room setup, there are many factors to consider. What type of meeting is it? How much participation will be asked of the attendees? But have no fear: the options are many, and you will be sure to find the perfect fit for your next business meeting. Here are five meeting room styles to consider, and the pros and cons of each:
CLASSROOM STYLE
This style is exactly as you would imagine, with meeting participants at tables facing the front of the room as in a classroom setting.
✓PROS: it is familiar and conducive to paying full attention to the speaker. Tables are great for taking notes, organizing meeting materials, using laptops or eating a meal while listening to the speaker. This is an ideal setup for training sessions.
✓CONS: this style can sometimes feel crowded, and is not a very cutting edge presentation style as participants may feel like they've traveled back in time to their school days. Meeting planners must make sure the tables are not too crowded, so that the seating arrangement is as comfortable as possible.
THEATER STYLE
This style features a large area with rows of chairs, and often a stage where the speaker stands or the presentation takes place.
✓PROS: this style is great for a short meeting, or a long conference with ample breaks throughout the day. It is ideal for a large amount of people, like a press conference or product launch.
✓CONS: this is not well-suited for note-taking or meetings with a good deal of audience participation.
TEAM / POD STYLE
This style groups participants in smaller clusters together in one large room.
✓PROS: this is great for working in small groups or encouraging interaction during meetings or breaks. It fosters community, and participants can bounce ideas and thoughts off of one another.
✓CONS: this is not ideal for a less interactive meeting, where the speaker is the sole focus of the conference and attention must be paid in great detail. It is susceptible to distractions and side talk.
U-SHAPE STYLE
This style arranges tables around the perimeter of the room so that the presentation can take place in the middle of the participants.
✓PROS: this seating arrangement is great for a very visual presentation with a good deal of interaction from the group.
✓CONS: it is not ideal for a mass meeting or one where group interaction is discouraged.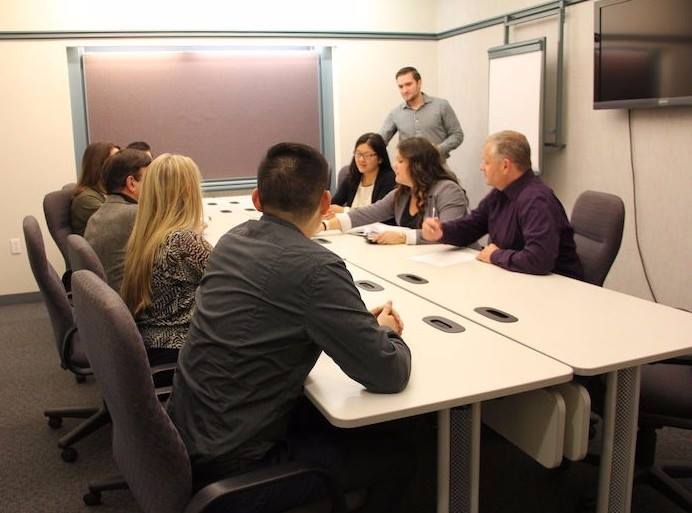 CONFERENCE STYLE
This is similar to a boardroom setup, where participants are seated around a conference table.
✓PROS: this is ideal for smaller, more intimate groups where discussion and participation is encouraged. The face-to-face interaction is an added bonus.
✓CONS: this is not an ideal setup for very visual presentations or meetings where interaction or input is discouraged.
---
Find your ideal meeting room setup at one of our AMA Executive Conference Center locations: Washington D.C., San Francisco, Atlanta, and New York City. Our state-of-the-art executive centers will provide all of your business meeting needs, no matter what style is best for you. Contact us today.