Commuting by bike is both healthier and more enjoyable than sitting in traffic 5 days a week. Whether you own a bike or don't own a bike, there are so many great reasons for biking to work, for fun, or for seeing a new city when traveling. Atlanta, San Francisco, New York City, and Washington DC all have city bike share programs that give you the opportunity to rent one of hundreds of bikes around their cities.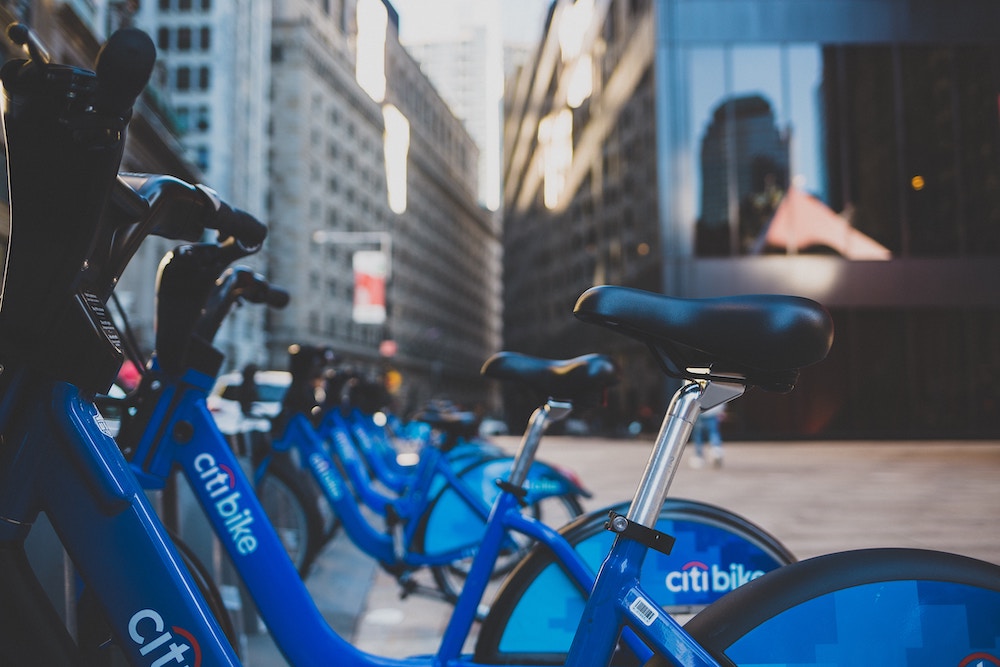 New York City
With a fleet of 12,000 bikes across 60 neighborhoods, New York City's Citi Bike is the nation's largest bike share program. Pick up a bike from one of the network's 750 docking stations. Return it to a docking station near the destination. Three dollars buys a 30-minute ride. If you want to continue using Citi Bike after Bike Week is over, we suggest purchasing an annual pass for $169.
Atlanta
An app is not required to use Relay, Atlanta's bike share program. Relay's online map helps you find and reserve a nearby bike. You can also find and reserve a bike with the Social Bicycles app. When you get to your reserved bike, you'll need to unlock it with the PIN you received when you purchased your rideshare time. After your ride, return the bike to a station near your destination. While you can pay as you go for $3.50 per ride, a $15 monthly makes it less expensive to ride all year round.
San Francisco
Ford GoBike has a network of 7,000 bikes that operates throughout the Bay area. Reserving a bike to pick up at one of the 540 docking stations is easy with the Ford GoBike app. Currently, there's a promotion to pay $2 for 30-minute trips. Buying a monthly pass for $15 may be more cost effective if you plan to bike more during the spring and summer months.
Washington, DC
The Capital Bikeshare program is the most affordable of all the above cities. This program operates a fleet of 4,300 bikes throughout the Washington Metropolitan Area.  Since there are over 500 docking stations, the online map or app should show a bike to reserve near your home or workplace. Single trips under 30 minutes are $2.
---
If you're in New York, Atlanta, San Francisco or Washington DC for business, you're in luck – AMA has an executive conference center within all 4 of these cities! Each conference center has complimentary beverages, free LCD and PC use, executive chairs, spaces for small and large groups, and no service charges. We know the ins and outs of training sessions, business meetings, corporate receptions, focus groups, and board meetings. We take care of the meeting space, you take care of business. Click here to contact us for booking information.