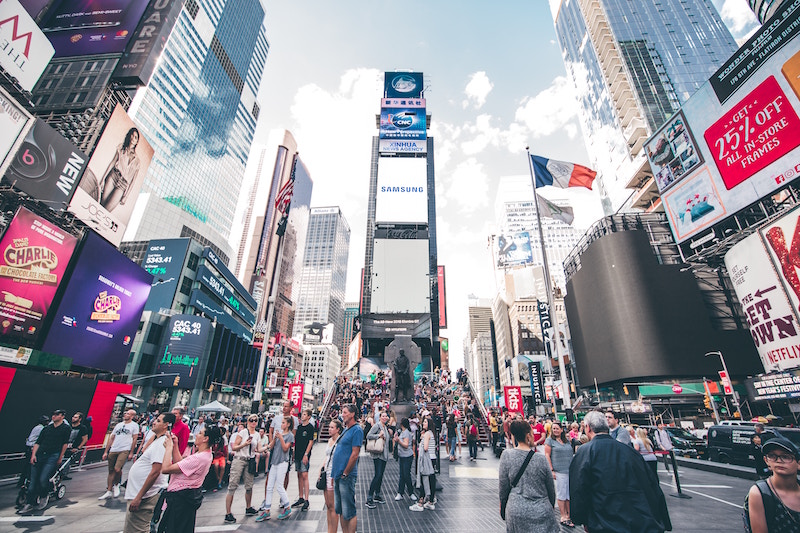 If you find yourself in New York's Times Square for a meeting at the AMA Executive Center, you are in luck. It is a bevy of excitement and a neon world of energy. The streets teem with crowds representing nations from all over the world. It is an irresistible hub of interesting venues and activities. Here are a few must-see Times Square destinations.
Caroline's on Broadway has been around since 1982 and offers first class live comedy entertainment all year long. It is located at 1626 Broadway right next to many of the famous theaters. Caroline's impressive 300-seat venue is state-of-the-art and features some of the best comedic voices in America. You can catch a comedy show there seven nights a week.
M & M's World is just adjacent to the AMA Executive Conference Center. It is a three-story marvel of chocolate fun. The store is a colorful wall-to-wall world of your favorite candy and signature merchandise. Visitors can create their own customized M & M's with personal messages or choose from a large variety of images. It's a sweet foray in the heart of Times Square.
National Geographic Encounter: Ocean Odyssey is an adventure not to be missed. It's an interactive ocean journey using immersive technology. It gives visitors up close and personal encounters with some of the ocean's most majestic creatures. You'll meet great white sharks, giant squid and humpback whales. You can find them at 226 West 44th Street.
Gulliver's Gate takes you to a land of miniatures like you never imagined could be possible. It's a 50,000-square foot world of tiny cities including New York. You'll get a bird's eye view of Central Park, Staten Island and the Brooklyn Bridge. No detail is forgotten and you may even be able to spot your own hotel. You'll be mesmerized and entertained for hours. Gulliver's Gate is at 216 West 44th Street.
Did you know that Times Square was once known as Longacre Square? New York Times publisher, Albert Ochs, brought the newspaper's headquarters to the square in 1904 and the name stuck ever since.
AMA's Executive Conference Centers are in four U.S. locations (Atlanta, New York City, San Francisco and Washington DC) and offer customized meeting spaces for all business needs. For more information, you can contact us anytime.