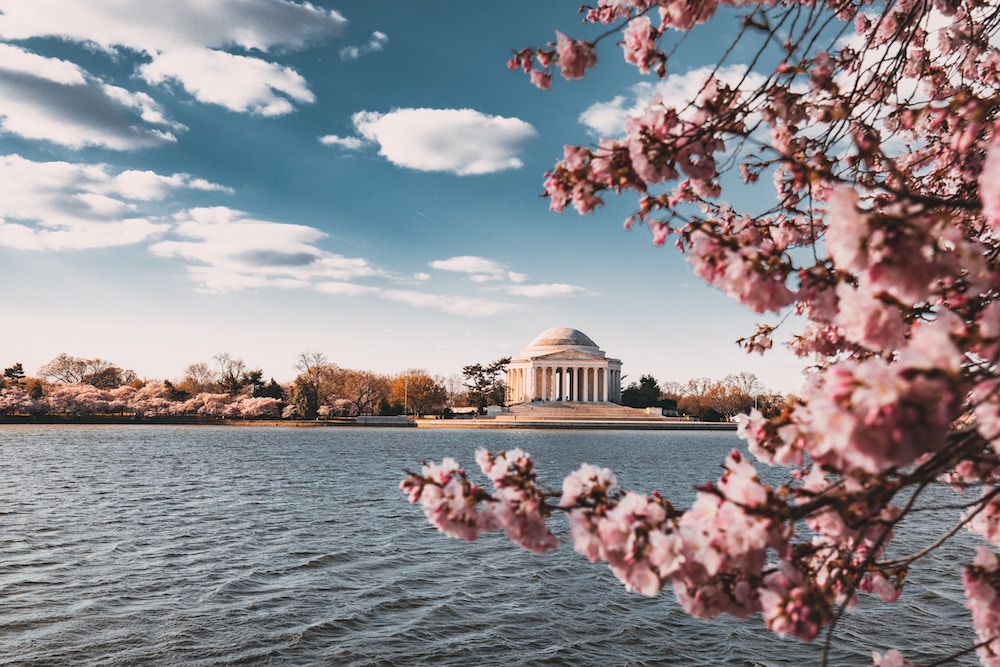 There is no better way to celebrate the arrival of spring than attending the nation's three-week long National Cherry Blossom Festival in Washington, DC, to admire the 3,000+ cherry blossom trees in full bloom. The festival, which runs this year from March 20 to April 13, produces and coordinates a large variety of events throughout the weeks in honor of both Japanese and American cultures and the natural beauty of the surrounding landscape.
Cherry Blossom Tours
Whether you enjoy the relaxing narration and live band entertainment of the Odyssey cruise as you sail past the famous cherry blossom trees and historic DC monuments or bike through a sea of pink and white blossoms surrounding the Potomac Tidal Basis with Blossoms by Bike, a guided tour of the beautified region is certainly a must. Visit the Tour Provider section of the National Cherry Blossom Festival website to plan any number of provided tours.
National Cherry Blossom Festival Parade
On April 13, 2019, the National Cherry Blossom Festival Parade will overtake Constitution Avenue – From 7th to 17th Streets in one of DC's largest spectator events complete with giant colorful helium balloons, celebrity performers, marching bands, beautiful floats, and talented performers just to name a few. The once a year experience is unlike any other of the DC area with easy access to the one-mile length of the parade from multiple metro stations. Occurring from 10 am to 12 noon, the parade route is open to the public and free apart from if you wish to purchase Grandstand seating.
Petalpalooza
On April 6, 2019, Petalpalooza, formerly known as Southwest Waterfront Fireworks Festival, will kick off with more than eight straight hours of free entertainment complete with a beer garden, interactive art installations, and a fireworks show. Hosted by the District Wharf, this exciting event has activities sure to please all age groups.
---
AMA's Washington Area Conference Center is conveniently located within walking distance of the Yellow Line METRO stop at Crystal City and minutes from Reagan National Airport – perfect for holding your meeting and attending the events of a lifetime at the National Cherry Blossom Festival. For more information click here to contact us.