Each September in New York City, the streets of Little Italy play host to one of the largest and longest-running street festivals in town. Attracting well over a million visitors each year, the Feast of San Gennaro began as a small observance but has grown into an 11-day long celebration of Italian-American heritage that includes live music, fun, and plenty of food.
The areas around Mulberry Street began to fill with immigrants, largely from Sicily and Naples, as far back as the 1880's. The first celebration honoring the patron saint of Naples in what is now known as Little Italy took place in 1926 as a small block party that lasted just one day. The saint's statue was carried through the streets as a symbol of devotion, and this Grand Procession stills takes place as part of the modern festival.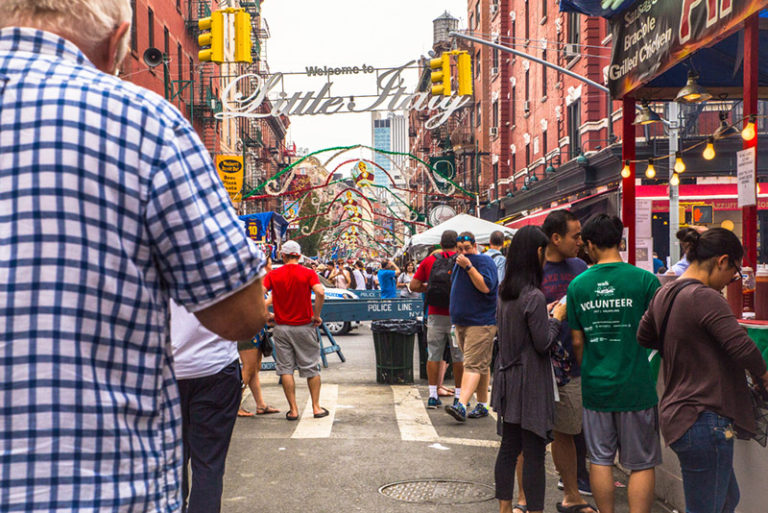 This year's Feast of San Gennaro will occur from September 12th through the 22nd and includes a lengthy lineup of activities. The Grand Procession starts at 2:00 p.m. on September 12th, and will feature floats, music, and special celebrity guests. A cannoli eating contest featuring an endless avalanche of Caffe Palermo cannoli will take place on September 13th. Throughout the festival, live music will be performed nightly at the Grand Stage on Mott Street.
The street fair has no admission, and vendors line the streets with crafts, games, and food stalls. Browse the wares a bit before deciding what to eat, as options are plentiful. Sausage and pepper sandwiches, calamari, fried clams, zeppoles, pizza—there is almost too much to choose from. If you somehow don't manage to find your favorites or get your fill, Little Italy offers some of the best Italian restaurants in town. Try Rubirosa on Mulberry, Emporio on Mott, or Lombardi's on Spring, to name a few.
The festival spans many blocks along Mulberry Street from Canal all the way to Houston. Between Mott and Baxter, it spills onto Grand and Hester as well. Crowds are higher during the weekends, so weeknights are a great option if you can swing it. Street closures and crowds tend to snarl traffic, so it may be easiest to take the subway into the area. Nearby stations include Prince, Spring, and Canal Streets.
---
Our New York AMA Executive Conference Center  is the largest conference center in New York City. Let us host your next business meeting, conference, or executive event at one of our AMA Centers in New York, Atlanta, San Francisco and Washington DC. Contact us to let us know how we can assist you.