With all the arrangements you have to make, details can make up the majority of your worries. However, at AMA Executive Conference Centers you'll find that having a meeting, seminar, or conference can be functional, catered to, and productive. In a word, exceptional (without all the worry).
With the largest conference center in New York City's Times Square, clients receive the best value and unparalleled service. Our staff is trained and prepared to accommodate the needs of meeting planners and visiting attendees. In addition to offering exceptional meeting space, our team offers light administrative including copying, email and general concierge.
While at the center our clients and their guests are assisted to completely. Located in the hub of the city, it's easy for attendees to take outdoor breaks and have easy access to casual and fine dining restaurants, as well as Broadway theaters that are located just moments of exiting the building.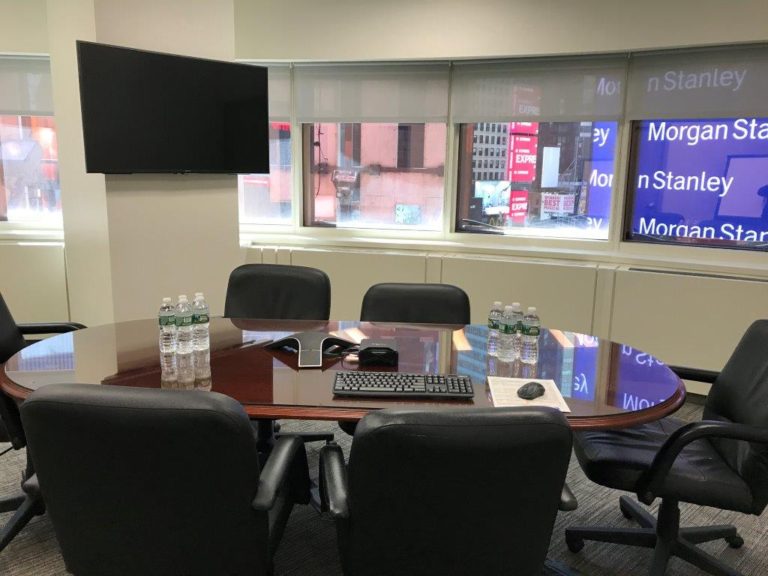 Our AMA New York Center has over 90,000 square feet of meeting space that is divided into 43 meeting rooms. This gives meeting planners the flexibility to host activities in spaces that are 168 sq. ft. up to 3000 sq. ft. – accommodating over 200 participants. The New York Center has available spaces with both indirect and natural lighting. High-speed internet and WIFI access is available, and as with all AMA Executive Conference Center locations the rental includes complimentary use of projectors and PCs for meeting use. All this and more without service charges or hidden fees.
Most meetings and events have a food and beverage component. The New York Center provides complimentary beverages, continuously, including coffees, gourmet teas, sodas, juices, and water. Additionally, there are a wide variety of catering options offered, and customization can almost always be accommodated. Find our menus and catering packages available for review online here.
Whether you're driving, hailing a taxi or taking an Uber, finding AMA's New York Executive Conference Center at 1601 Broadway is a breeze. For more information or questions you might have about rental or your visit simply contact us today!